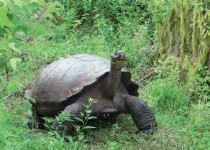 Galapagos Conservation Trust
GCT raises awareness of the challenges facing the Galápagos Islands and provides funding to support vital conservation work. The Galápagos Islands were Darwin's inspiration and the first World Heritage Site, but they have been declared "In Danger" due to:
The destructive spread of introduced animals and plants
A huge increase in population and unregulated development
Since 1995, GCT has sent more than £1.4million to Galápagos. Here are just some of the projects CGT is currently supporting:
The renovation and re-development of the Charles Darwin Visitor and Education Centre in Galápagos
Project Floreana - this involves educating the local community and removing all introduced species from Floreana Island, with the aimof restoring the island's ecosystemto it's original state. This project includes saving the critically endangered FloreanaMockingbird, which is at risk of extinction.
Monitoring and protection of unique birds such as the Flightless Cormorant and Galápagos Penguin
Marine Services - Understanding and protecting sharks in the GalápagosMarine Reserve
A year's membership of the Galápagos Conservation Trust is included in the cost of all our Galápagos holidays.